Welcome to Restumping Melbourne! We are so excited that you've visited our site and want to share with you what sets us above and beyond other restumping, reblocking and underpinning companies in Melbourne and the rest of Australia. At base level, we also offer general construction, repair, decking and renovation works. More holistically, we ensure that your home or business is a place that you're proud of, and that it will be for years to come. Consider this blog a forum to keep you up-to-date on all things restumping, reblocking and underpinning. We want to continue the conversation about your needs and how we can best service you. Check back in regularly for seasonal deals, tips, and helpful knowledge about restumping, reblocking and underpinning.
Why Restumping Melbourne? Let us count the reasons. Sure we're a little biased. But for good reason. We've been operating more than twenty years and are incredibly familiar with the area and the design and science of our surrounding areas. We've assisted hundreds of homes, schools, businesses and offices to become the dream dwellings that they've dreamed of. We've been a part of the evolution of the services that we offer and always aim to stay ahead of the curve. We are passionately committed to providing you with highest level of service and workmanship. So how do we accomplish this? We used advanced computer leveling and provide a 20-year guarantee of the work that we provide. We're fully licensed and insured to serve all suburbs of Melbourne and Country Victoria. Why do we do this? We can offer so much value to your home, and it won't take up all of your savings.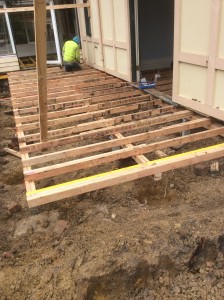 Why restumping in general? What's the need and the purpose behind underpinning and reblocking. Each service is more important than you realize. Homes are expensive. Businesses are expensive. Offices are expensive. And if you're going to put your hard earned cash into one, you want something in return. You don't want to turn your homes or businesses into money pits eating more and more of your money year after year. You want to see something in return. You need the equity. You need the growth of the value of your asset. We ensure that the foundation of your home is sturdy and beautiful. We don't see a trade-off between the surface aesthetic and the mechanics behind it. We stand by our work and want to give you a finished, polished product that you're proud of, as well. Check out examples of our work here.
Teetering on the fence? Give us a call. 0413 060 254. We'll take a look, have a good conversation about your wants and needs and provide you with a no-obligation quote. Yep, that's right- no obligation. There will be no badgering you at all hours. We're simply here to share potential opportunities for the growth of value in your home or business. You're also welcome to email us. Any need, we're happy to help. We're in this for the pure joy of what we do and how happy it makes our customers. Bottom line.