We give a lot of real estate on this blog to restumping and underpinning. After all, they are the bread and the butter of what this company was founded upon. But it's not the full extent of what Restumping Melbourne can offer you and your loved ones.
When the sun is shining, do you want to hang out inside, cooped up with none of the benefits of the sunshine? While that may have sounded like a rhetorical question, I assure you that that's not the case. If the temperatures are comfortable, then most of us tend to gravitate outside. But comfortable tends to be a bit subjective. If you have no cover or structure to your outside areas, then you're exponentially more susceptible to sunburns and other negative effects of the sun. There is a happy middle of the road here, and that's the perfectly designed outside deck or verandah.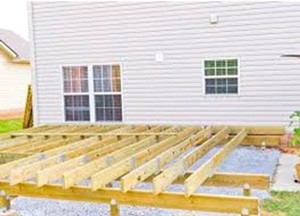 Luckily for you, we count these areas as passions of our trade and have extensive experience designing and installing custom deck and verandah solutions for properties of all sizes. This is not an off-the-shelf solution, rather we're happy to work through your individual needs and what will work best for you. There are a couple of specific questions to begin asking yourself-
How do you want to use your outdoor deck or verandah?
What look or finish are you looking for, for your verandah?
Do you want this area covered? Not covered? Partially covered?
These are the tip of the iceberg but they're great inspiration questions to guide the exact aesthetic and functionality of your next deck or verandah.
As far as the first question, there are a million different activities that you can take advantage of your deck or verandah for. It's a great place to install a pool or a hot tub, either now, or down the line. We can work with partner contractors to make visions like this come true. It's also a great property opportunity to build flower beds or set out pots of plants and herbs to bloom. This way they get the most sunshine. However, it's very easy to give these plants and flowers too much sunshine, so our design will take some cover into account, if this is your function preference. Finally, it's a great place to enjoy a cool beverage and barbecue with friends. If this is your ideal usage, then we'll make sure that you have as much space as possible to invite over as many friends as possible.
The second question may open a Pandora's box, but we're not necessarily apologizing. Strategizing the look and feel of your deck or verandah is an activity that we take a lot of joy in, and we're happy to brainstorm all day long. This also ties into the second question. There are a myriad of ways to design your outdoor space, covered or not. Explore your favorite online resources to your heart's content. We'll bring your dream to life.
So what are you waiting for? Give us a call to discuss your outdoor deck or verandah needs.