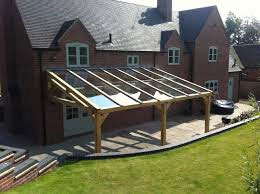 Tis the season… to spend lots of time enjoying the great outdoors. Whether that means cross country road trips, vacations at a beach resort, or just an afternoon of backyard relaxation, we bet you're trying to soak up as much sunshine as you can. The Restumping Melbourne team certainly can't fault you for that. In fact, we're huge proponents and want to ensure that you're set up for success in this area. As you know, our services run the gamut, but they most definitely include design and installation assistance with verandahs and decks. Part of our service ethos is a commitment to educating our valued customers. Not just about what we can offer you, but as much general industry inspiration as possible. We want to share whatever nuggets of creativity we can, so that you can play an integral role in designing the home or business of your dreams.
Today we focus on a unique take on the verandah– one built with glass. Sounds a bit odd at first, doesn't it? Maybe it sounds fragile- not an optimal backdrop for energetic young family members or those who are more accident prone. And wouldn't a material like glass reflect light, rendering all of your visitors blind whenever they attempt to look at your new architectural work of art?
These questions and thought processes make sense, but let's dispel any confusion. The glass in a glass verandah would refer to the roof. It would protect you from elements like rain or snow, but it would need to be reinforced, a thicker width, so that it could stand any tests from wind or debris. When it comes to the posts that would support the glass roof, we recommend looking into aluminum or steel, so that there is no question of any corrosion. These posts could be any color, so the options for your look and feel are many. This is also an opportunity to mix and match materials. You could leverage a glass roof and aluminum posts, and then mix things up with a beautifully stained floor. Concerned about too much light overhead? There are many diferent options available for retractable awnings or sun screens. These are easy to use, and easy to put away when done. The sky is the limit when it comes to flexibility.
A glass verandah could work for many different designs of homes. It doesn't matter if you're living in a Victorian manner, or if a modern style is more your preference. Either way, going this route provides you with an outdoor experience, without heading too far from the comforts of home.
Do you think that you might want to explore a unique verandah design option, like one that integrates glass as a material? Do you have another idea that you'd like to talk through with a restumping expert? Questions about our services in general? Feel free to give us a shout, anytime. The Restumping Melbourne team would love to hear from you.