We've been Melbourne's number one option for re-stumping and underpinning for many years. We've gained our reputation and the trust of Melbourne's community through our tireless efforts to elevate our offering of services to the next level. This may have started with underpinning and re-stumping but we quickly realized an opportunity to expand into general home renovations. After all, when you're looking at the myriad of property styles, sizes and types that we are, you begin to see a lot of consistencies… Or sometimes, inconsistencies. When we're leveling the foundation of your home, it gives us an up-close-and-personal view of what may have been wrong with the foundation to begin with. This quickly leads us to nit pick every other thing potentially improvable about your property.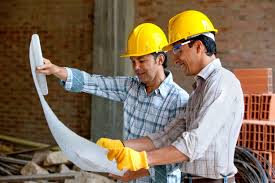 We're sorry, but this perfectionism is something that we'll never apologize for. Although we sort of just did, but it will never happen again. And why would you want it to? You're getting multiple services for the price of one when we survey your property because it opens the door to transparent and creative conversation about perfecting your dream property. You may have had your heart set on a certain style of verandah or deck. We'll be able to tell you exactly how feasible this vision is, and what it will take to make it a reality. Conversely, sometimes we'll need to be the bad guys to help you adjust your vision a little bit, so that it's safe and comfortable for everyone who gets to experience it. 
So let's talk through the process. It's pretty similar to when you reach out to us with your underpinning and re-stumping needs. You know the different media you can reach out to us through– email, phone, in-person– all are options, and all make us very happy. We are so honored to chat with you about your needs, and outline how we can help.
We'll start with a basic introductory conversation outlining who we are and what we do. We'll get to know each other so that the working relationship becomes so comfortable that all stress outlining your project magically disappears. You can share sample pictures of what you're looking for, and we'll show sample pictures of our work. Again, with our storied history in Melbourne, there's a pretty good shot that we've already worked on a project pretty similar to what you're looking for. There should be so many questions during this process. Bring it! We're looking forward to serving you with the perfect answer for every question that you have. In fact, we'll be worried if you don't ask us enough questions…
If you feel like we're aligned– personally and professionally, then we'll begin to put together a plan for you. The plan will be visual, it will be extensive, and it will always include a timeline and an estimate. We won't cause you to incur any costs until you sign on the dotted line.
And then, the fun begins… Stay tuned for Part II of everything Re-Stumping Melbourne has to offer when it comes to your home