It's a scientific fact, home renovations are one of the most stressful situations that you can put yourself in. They can bring out all sorts of personality facets that you didn't even know you had- rage, frustration, anxiety, sleeplessness, sadness, pain. It's unfortunate, and not at all okay with us, but it makes sense. You lose control of your home or business, you're giving the power to more or less perfect strangers, and you're bargaining with your hard earned money on a vision that may or may not become a reality.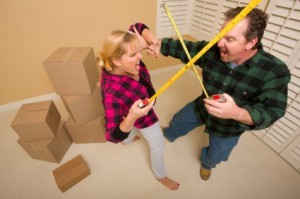 With Restumping Melbourne on hand, you can dispel a few of these quandaries right off the bat. We never want to be perfect strangers. We'd rather skew towards friends and valued partners by the time our work together is complete. We accomplish this through constant and comprehensive communication, and maybe a joke or two along the way. Our thought process is simple– your home renovation shouldn't be a headache, but rather a tool and a process to create wonderful, lasting memories.
Many home or business owners put off renovations that will had exponential value to their property, solely because they're scared of the impending stress. But if you keep a cool head and follow our tips throughout the process, you're much less likely to take out negative emotions on those around you, and more importantly, on yourself.
Plan Ahead- Organization and planning are the arch-rivals of stress. When you've done your homework and checked all of your boxes, there is less margin for error. When there's less margin for error, you can rest easy because you're an expert on the process. Restumping Melbourne can alleviate this burden even further by helping you plan ahead. We will provide all paperwork and information you could possibly need in order to make a well-informed decision.
Let Friends and Family Know- Don't keep your upcoming home renovation a secret. If you share the news with those closest to you, then you're sure to get heads bobbing in sympathy and acknowledgement. Most likely they've been through it themselves at some point. Not only can they potentially offer advice, they're now aware that your blood pressure may steadily rise. They're more likely to be a sounding board to vent to or even someone to provide a couch to sleep on, should you need it.
Schedule a Reward Post-Renovation- Sure, the renovation in itself is a reward. You've just upgraded your home or business, potentially adding thousands of dollars in value and definitely making it either more comfortable or more aesthetically pleasing. But let's be honest, you deserve a reward on top on that. Book yourself a massage or take the family out to dinner at a fun restaurant. Coming home will be even more magical with the renovation complete.
Follow these tips and be sure to reach out to your Restumping Melbourne team to answer any questions or concerns that you might have. With these tools, you're sure to have a much smoother ride when it comes to your home renovation.