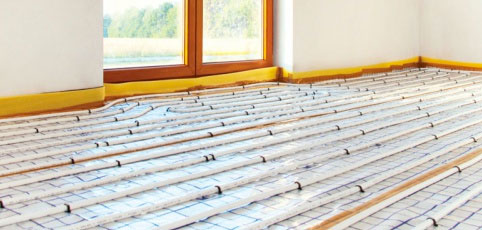 No doubt about it, the cold is coming in hard and fast. We had a good summer season, and hope that you did as well. While there are many fun and festive things to look forwards to, there are also many practical updates that we need to make to our homes for the reduced temperatures ahead. Unfortunately, year after year, heating remains one of the last things to cross off of the list. This year, that stops. This year, Restumping Melbourne is going to be your partner in crime and ensure that you are properly set up for the chilly days ahead. Many of you may whine, "there are so many options out there! How do I know which one to choose?" We'll cover the benefits of a variety of options over the coming weeks, but today- we're going to focus on Hydronic heating system.
If you travel to Europe, hydronic heating system is quite the norm. It's popular among its users and has a reputation as being both efficient and pleasant. It's also consistent, a set-up that you do not need to frequently adjust to your liking. So how does it work? Hydronic heating system uses thermostat technology. The thermostat technology keeps any chill out of the air by recirculating hot water, which is heated by solid fuel or natural gas.
Pros and Cons of a Hydronic Heating System
Let's talk about the pros. For those impacted by allergies, this is a slam dunk. Hydronic heating system means no forced air circulation. No forced air circulation means no dust and allergens throughout the air. No dust and allergens throughout the air means no heat, and much less cleaning. (A benefit that we think we can all agree on).
Another pro of hydronic heating system is that it's reliable. The only parts that you need to ensure are working are the pump and the boiler. There will never be 0% maintenance, but this is about as low as it gets. We recommend that you still explore warranty options. Luckily, the parts needed for a hydronic system generally tend to have extremely long warranty periods, like 25 years for a unit from Bosch.
Restumping likes to paint full and transparent pictures for our clients, and that means sharing a few potential cons. Hydronic heating systems are on the higher end of the pricing meter. That being said, they're becoming more and more popular in Australia, so we should start to see a reduction in price over time. Another element to keep in mind, is that while this system will be great for the colder months, it won't pump cold air during the summer, to keep your home or business nice and cool.
As with any big decision in life, we recommend that you weigh the pro's and the con's. You know that this is an area that we're very passionate about, so if you have any questions or topics that you'd like to talk through, please give us a shout. We would love to help you make the decision that's right for you.