Maybe it's just us, but it seems to be that interior design, architecture and home renovation trends come and go as quickly as fashion trends. What's popular one day, may be completely out the next. This is probably to be expected as with any consumer industry, but the Restumping Melbourne team sure does love to dive in to whatever the experts are loving. That being said, there are some trends with staying power. We can't even call these trends. They're integral parts of the history of architecture. You can see them in some of the most beautiful homes and business structures out there. Today, we're diving into a combination of the two. A piece of a structure that has stood the test of time. One that has picked up interesting attributes along the way. We speak… of glass doors!
What's not to love? They enhance the views of the properties surrounding them, they're great for the environment as they become more and more sustainable, and they let in maximum light and fresh air. Sometimes they're the star of the show. And sometimes they're in more of a background role—allowing the rooms around them to be the spotlight.
So what's changing? Today, we take a look at three different styles that we're noticing consumers installing in their homes and businesses- hinged single doors, French doors and bi-fold doors. Each has its benefits, let's take a look:
Hinged single glass doors
This is the style that you'll see most frequently. It has a hinge on one side of the frame, allowing it to open and close. Benefits include versatility of look and feel, and this style of door is an optimal way to maximize the space in a small room. This is an easy style of door to add a screen to, if you're aiming to keep bugs out of the space.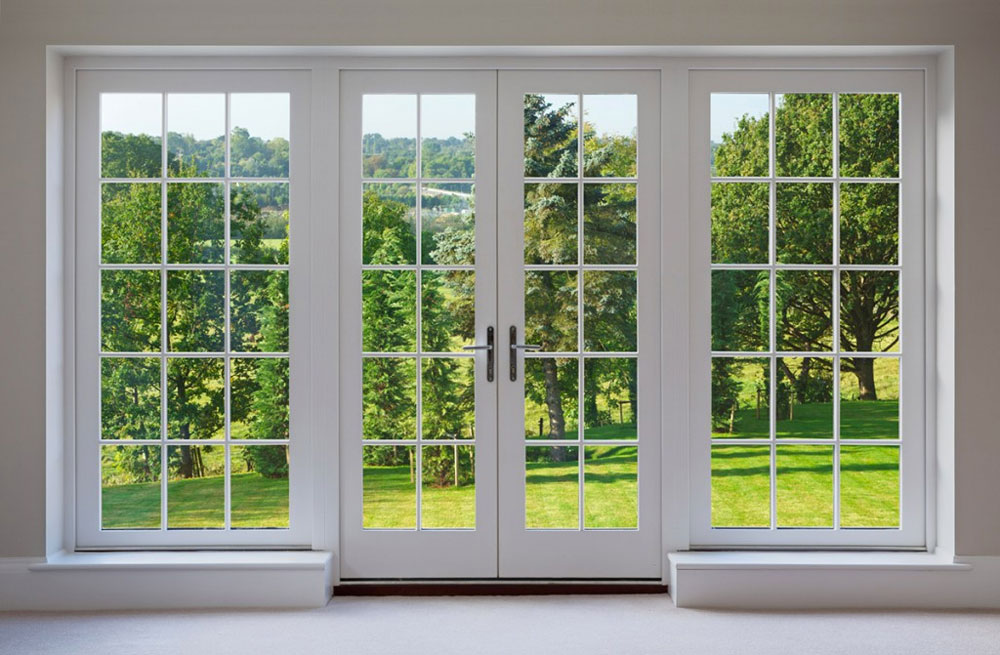 Bi-fold glass doors
These are constructed with multiple folding door panels, which can have frames or go without. They can be hinged on one or both sides of the opening in the home or business' structure. They create an awesome illusion of a larger interior, if you're looking to make a small space look larger. The important caveat about this style is that they're most commonly hung from the top. So, if this isn't the look you're going for, you'll probably want to steer away from bi-fold doors. This also means that you'll need to plan ahead. The structural supports need to be sound enough to hold this weight.
French glass doors
We're frequently asked why the doors are referred to as French, and while they are historically used in French-style architecture, they're used the world over. They open away from each other and are used in both the interior and exterior. They're an elegant choice for social and entertaining spaces. They're commonly built with PVC, fiberglass, timber or aluminum- a whole range of materials.
As you can see, Restumping Melbourne is a bit of a treasure trove when it comes to fun facts about architecture. Questions? Give us a shout. We'd love to hear from you.