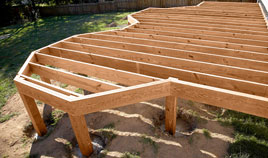 The warm weather is in full swing and the Restumping Melbourne team wants to ensure that you're enjoying it in style. There shouldn't be a necessity to travel to a far-off, tropical destination, when you can experience all that the sun has to offer, from the comfort of your home or business. In our last post, we talked about stepping up your design game and exploring verandahs with glass. Today, we're heading back to basics. Today we're talking through principles to keep in mind when designing a deck, no matter what the look or feel.
It can be a daunting process, designing any component of a new, or existing home. Luckily with partners like the Restumping Melbourne team, you know that you're in great hands. We want you to be in the driver's seat when it comes to creativity, so that you can truly feel like you owned bringing this element of your home or business, to life. With that said, here are some tips to keep in mind:
Take advantage of free, online, design tools. Free and online are the key terms here. Prospective designers and builders are frequently put off by the daunting process of visualizing what they want. But a brief online search can bring up a host of tools that can compare materials, size and shape. They'll even provide you with drawings that you can then bring to your builder.
Keep the rest of your home in mind. We're talking about size, layout and function. You don't want to build a deck that will dwarf the size of the rest of your property. You also don't want to build a deck so small, that it looks out of place. Think about what room inside, you want adjacent to the deck. Do you want it to be your kitchen, so that you can eat al fresco outside? Maybe you're building a private deck, that you'd like adjacent to your bedroom?
Look at traffic flow. There are few things worse than retroactively realizing that you've designed the deck wrong, so that your parties are crowded and no one can move around when visiting. The design tools mentioned above are a great resource to help with this. Simply by looking at a bird's eye view of your design, you can pin point the best areas where you see people visiting, relaxing or moving around.
Research all the materials that you plan to use. You'll feel far more confident about the investment that you're going to make, if you know that the materials you're using to design your deck are easy to care for, and long lasting. There are a lot of trends in the construction industry. Sometimes the most beautiful materials or stains, can be far more expensive than you may think.
Keep each of these tips in mind, and the design process will be a breeze. Next up? Plan on sharing your vision with companies like Restumping Melbourne. We're dedicated to bringing it to life.