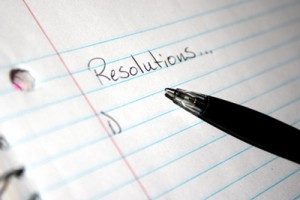 January is a funny month. You might be feeling a wee bit sluggish from the excessive amounts of eating and drinking during the holidays. Reference miracle hangover cures for such ailments, here. You may be feeling a bit strapped for cash as the bills from aforementioned holidays begin to roll in. You might be feeling nostalgic for a successful year's completion. We certainly are. We can't thank your valued customers enough for a truly wonderful 2015. With your help, we were able to expand our reach and assist more and more amazing families and businesses. It's truly through your positive word of mouth recommendations that we've been able to grow as much and as quickly as we have.
On the other hand, you may see January as the best fresh start possible, and an abundance of excitement and trepidation for the year ahead. There are so many possibilities—it's a blank, clean slate. You can set your expectations as high as you'd like, there's no one stopping you. And finally… It's the month of a funny little thing called resolutions.
Resolutions can be our voices of reason, or the bane of our existence, depending on how you handle them. We like to always operate on the former. Here at Restumping Melbourne, we relish New Year's resolutions. We can't reiterate enough how much we strive for progress in this industry. We do so in a variety of ways. These include immersing ourselves in educational opportunities, like tradeshows, and pouring over related publications. We're searching for innovations in both materials and process. We're looking for materials which are light, but sturdy, materials that will last for generations to come so that you and your loved ones can feel comfortable in your home. We're looking for the tools that will expedite the install process and make sure that it's done well, there will never be holes or workarounds when you're working with Restumping Melbourne.
So as far as we're concerned, January is a really exciting month. We're writing our resolutions based around the above goals and we're confident that we'll meet and exceed each and every one. We're looking forward to growing in 2016—to working with larger and more complicated properties. We're looking for challenges and we're looking to help.
The best way to meet and exceed your resolutions? Find an accountability buddy. The accountability partner is a great go-to to track your progress with. Who best to fit this role for Restumping Melbourne? We didn't have to look very far. We hereby designate each of our wonderful customers as our accountability buddies. It's through both your positive and constructive feedback that we grow. Please keep us posted on what works and what doesn't through any medium that works best for you. Phone? Email? In person? The forum doesn't mater to us. We love talking to you about your experience, so that we can integrate those learning's moving forward.
Looking forward to a wonderful year!