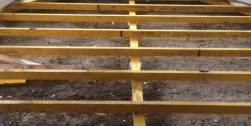 Restumping
For houses on stumps, restumping becomes a necessary requirement every 20 odd years. Get your house restumped to correct sloping floors, cracked plaster work, doors not closing correctly, windows becoming out of place and a myriad of problems associated with uneven foundations to the property.
Restumping Melbourne Services
School &
Government
We understand the needs of school and Government underpinning projects, to adhere specific deadlines and requirements. Please contact us today to discuss your job specifications.
Office/Commercial Underpinning
Commercial and Office block underpinning forms part of our core services. We are fully licensed, insured, manpowered and ready to undertake your commercial project today.
Residential Restumping & Underpinning
Our bread & butter, we've been restumping and underpinning houses for so long we live, breathe and dream about it.
Working with us

Underpinning & Restumping
Melbourne homes since 1995
Testimonials
Restumping Melbourne came to the rescue when our house urgently needed repair. Our walls were cracked, doors not closing and the whole place had a lean which was affecting our sanity. Sam from Restumping Melbourne was quick, affordable and efficient. I would not hesitate to recommend Sam and the boys again.
John Phillips
We used Restumping Melbourne to underpin the concrete slab under our house in 2008 and have not had a single issue since. Thank you for the great job.
Andrew Black